ISMIR 2004 Concert
Spanish guitar and electronics

12.10.2004 21:00
Àgora Rubió i Balaguer de la Universitat Pompeu Fabra
Ramon Trías Fargas 25-28 08003 Barcelona
Enrique M. Lop, guitar
| | | |
| --- | --- | --- |
| | | Luminoso (2003) |
| | | Secuencia V (1983) |
| | | Piece for guitar and tape (2003) |
| | | Mantra I (2003) |
This concert is part of Daniel Pearl Music Day, an annual global concert celebrating the ideals of tolerance, friendship and shared humanity. Daniel Pearl Music Day was inspired by the life and work of journalist and musician Daniel Pearl, who would have turned 41 on October 10th 2004. The organizers and participating musicians, join people around the world in a tribute to the visionary men and women who use the power of music to promote the unity of mankind above the differences that set us apart. Through the universal language of music, we reaffirm our conviction on the value of dialogue and peace.
Alexandra Gardner is a composer and sound artist creating music for performance and concert settings, dance, installations and radio.
Currently Gardner is a visiting composer at the IUA/Phonos Foundation. She studied music composition and percussion at Vassar College, the California Institute of the Arts and The Peabody Conservatory of Music.

Her compositions have been featured throughout the U.S., Europe and Asia at festivals and performance spaces including the Aspen Music Festival, Atlantic Center for the Arts, Akiyoshidai International Art Village, Brooklyn Arts Exchange, Centre de Cultura Contemporania de Barcelona, CrossSound Music Festival, the Florida and Santa Fe Electroacoustic Music Festivals, and The Kennedy Center.

Gardner's music has received honors and awards from Meet the Composer, the American Composers Forum, ASCAP, the Mid-America Arts Alliance, New Music Delaware, the Open Meadows Foundation and the Maryland State Arts Council, and has been commissioned by organizations such as the SOLI Chamber Ensemble, CrossSound Music Festival, Deborah Riley Dance Projects, and the Smithsonian Institution.

Also active in the recording industry, Gardner works as a mix engineer, audio editor and sound designer for radio documentaries, gives workshops in digital audio production and serves as an audio consultant to artists and organizations.

Luminoso for guitar and sampled sounds was written for Enrique Malo Lop and created in the studios of the IUA/Phonos Foundation in Barcelona, Spain. It is the third work in a series of compositions for solo instrument and electronics. The guitar part combines flamenco and classical guitar techniques with percussive sonorities played on the body of the instrument. The electronic part of Luminoso is comprised entirely of acoustic guitar sounds, some of which are easily identifiable, and others of which have been processed into completely different forms using a variety of software tools. "The title refers to the quality of sunlight in Barcelona, which I found myself trying to capture in this music."
Andrés Lewin-Richter (1937) was awarded a Fulbright Fellowship to study and work at Columbia University in New York (1962/65) as assistant to V. Ussachevsky, M. Davidovsky and E. Varese at the Columbia Princeton Electronic Music Centre, where he composed his first electronic pieces. He was also the sound engineer for the Alwyn Nikolais Ballet. With J.M.Mestres Quadreny he established in 1968 the Barcelona Electronic Music Studio. In 1975 he created the Phonos Electronic Music Studio with J.M.Mestres Quadreny, L.Callejo and G,Brncic, which was transformed into the Phonos Foundation in 1982, of which he is currently the secretary and executive director. He also teaches at the Escola Superior de Musica de Catalunya. His compositional work is mainly electroacoustic, including numerous pieces for instruments and tape, and music for ballet, theatre, film and video.

Secuencia V for guitar was created at the request of guitarist Jordi Codina in order to establish a Spanish contemporary classic guitar repertory. So I decided to use flamenco elements for the instrumental section, while on the tape there are percussive sounds related to the flamenco performance based on percussive guitar samples. This piece is quite often played in Andalucia by local guitar players.
Graeme Truslove (1978), composer and guitarist, has a M.S. in electronics, specialized in music, from Glasgow University and studied classic guitar. He is mostly interested in aspects of improvisation using many jazz and Hindu music techniques. He has given concerts in classical music as well as celtic music in Scotland, and plays tabla and djembe in an african music group. In 2001 Truslove was awarded a SGAE-Phonos grant in to compose the present Piece for guitar and tape, which also received a grant from the Scottisch Arts Council.
Piece for guitar and tape is an electroacoustic environment where the guitar player is given the freedom to colour the underlaying textures through his own improvisation. In terms of an harmonic representation, the guitar part is notated as a series of chords as in jazz music, however, the traditional homophonic notation used in jazz is somewhat misleading when applied to this piece, as none of the chord changes are strictly sequential – nearly all involve an element of overlap from chord to chord. Throughout the piece, the individual voices fade in and out, and it is only at the time when a strong harmonic implication is made that it is notated. The areas between chords, from the point of view of the improvisation, can be considered transitional. The score provided shows how the electronic voices move with respect to the tape position, and where and how these voices imply the harmony. It can be seen that the piece commences with two minutes of silence. This is a period of complete freedom for the guitarist, and a point where improvisational ideas could be stated before developing them later in the piece.
Ramón Humet (Barcelona, 1968), composer, pianist and engineer, studied mainly with Gerry Weil and Harriet Serr. Gerry supplied him the basis of music theory and the music forms, as well as a great love for music with no limits. Harriet gave him a solid base in the art of interpretation and discipline in study. Both were his contacts while living in Venezuela, where he established contact with afro-cuban music. In Europe Humet continued his studies with Jonathan Harvey, George Crumb, Salvatore Sciarrino, Helmut Lachenmann and Joan Guinjoan. At present he teaches at the Cambrils City Music School and at the Barcelona Liceo Conservatory. In 2001 he was awarded an IUA-Phonos grant in order to create Mantra I.
Mantra I is a result over the meditation on a fundamental and absolute sound. The sound emerges from different sound sources: the two bass strings of the guitar, the electronic sound, the tibetan bell and the voice. Mantra is not music to listen, or music to understand. Mantra is music to contemplate.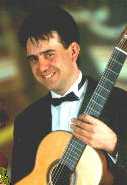 ENRIQUE M. LOP - guitar

"Inquestionable creativity and veritable communication" - Francesc Taverna Bech, composer

Spanish concert artist and professor of guitar Enrique M. Lop studied at the Conservatorio Superior Oscar Esplà in Allicante (Spain), where he worked with the Maestro José Tomàs. There he obtained his Titulo Superior with the qualifications "Excellent" and "Matricula de Honor". He has also participated in master-classes with prestigious performers and teachers such as Hopkinson-Smith, Leo Brouwer and Manuel Barrueco. As a soloist and member of chamber-music ensembles, he performs throughout Spain and abroad. Having explored numerous directions of music, he is in touch with many different techniques and styles. His current dedication is to contemporary music. As a teacher Enrique M. Lop is the Head of the Department of Guitar at the Conservatori Professional de Música de Vila-seca (Spain) and is the conductor / founder of the guitar ensembles Miquel Llobet and Ferràn Sors, at the same institution.